CFSEA announces Fall Smart & Caring Community Grants
Posted on 30 November 2021 by Prairie Post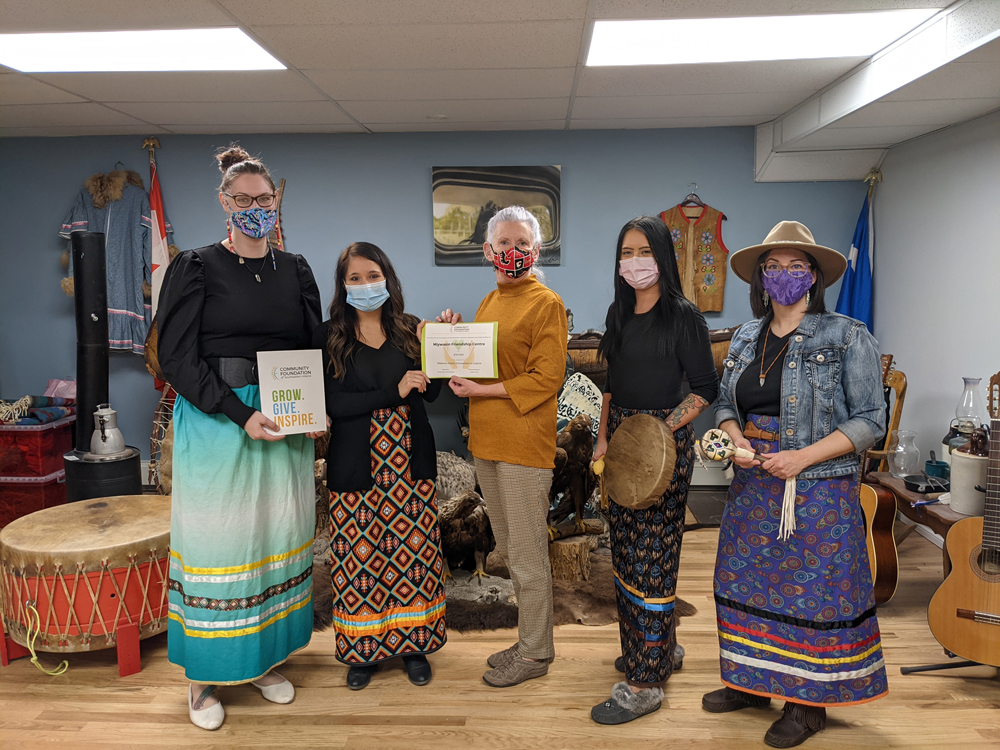 Miywasin Friendship Centre receives $10,000 for their Ribbons, Fabric, and Connection to Culture program. This program will offer sewing opportunities to create items such as Ribbon Skirts.
The Community Foundation awards $113,627.50 to 14 charities across Southeastern Alberta.
Smart and Caring Community Grants support communities across Southeastern Alberta by enhancing belonging of all citizens and strengthening the non-profit and voluntary sectors. Donors choose this fund as a way to allocate their contributions to support the community's greatest needs.
"We are so grateful to work alongside the Rural Advisory Committees in Brooks, the County of Forty Mile, and Special Areas 2, 3 & MD of Acadia, to ensure the greatest needs in our communities are being supported. Our funding priorities this grant cycle focused on Mental Health, Work & Economy, and Vulnerable Populations. Thank you to our incredible group of volunteers who make up our Grants Committee," said Cheryl Pocsik, CFSEA Grants Committee Chair in a statement.
In awarding grants, CFSEA conducts a comprehensive procedure to determine the most crucial community needs from data and evidence-based practice. Grants are then awarded based on potential impact and fund availability. Each year the Community Foundation hosts a Vital event to help determine the community's greatest needs which guides their funding priorities. The current priorities, in no particular order, are as follows: Mental Health, Work & Economy and Vulnerable Populations – particularly youth & substance abuse.
"Our recent Vital Focus highlighted the current grant priorities and the importance of working together to create change. The fall grant recipients demonstrate just that – representing collaborations and fostering connections between diverse groups across the region. Each one of these initiatives shows promising impact for their communities," added Niki Gray, Acting Executive Director.
The next Smart and Caring Community Grant cycle will open to applications in February 2022.
To learn more, connect with CFSEA by calling 403.527.9038 or by visiting https://cfsea.ca/we-give/smart-caring-grants/. 
Fall 2021 Smart & Caring Community Grants
Organization, Project , Fund(s), Grant Amount
• The Connection Intercultural Association of Medicine Hat
Kindness Box
4,000.00
• Medicine Hat College Foundation
Mental Health Series – The Beej Project
10,000.00
• Shortgrass Library System
Code Red
10,755.00
• Medicine Hat Family Services
Computer Upgrade Project
12,000.00
• Miywasin Friendship Centre
Ribbons, Fabric, Connection to Culture
8,690.00
Field of Interest – Roy & Elaine Weideman
1,310.00
• Bow Island Municipal Library
Children's Festival Project
7,047.50
• Brooks and District Women's Safe Shelter Society
Playground
830.00
Field of Interest – Growing Active
1,570.00
• Brooks Bombers Baseball Association
Inflatable Batting Cages
9,630.00
Field of Interest – Savanna Drilling
370.00
• Empress Friendship Centre
Outreach and Support
12,000.00
• Canadian Red Cross Society
Elimiminating Health Equipment Loan Program Wait Times
14,740.00
Field of Interest – Environmental Legacy
260.00
• Kerby Centre
Medicine Hat Tax Clinic for Low Income Seniors
4,145.00
Field of Interest – Mayors fund
480.00
• Big Brothers Big Sisters Association of Medicine Hat
GoGirls & GameOn Program Expansion
10,800.00
• CAREERS The Next Generation Foundation
Connecting SE AB Youth to the Skilled Workforce
3,000.00
• Cleo's Karma Canine Rescue
Washer and Dryer
–
Field of Interest – Environmental Legacy
2,000.00
Total Grants
113,627.50