Door to the World opened at the Taber's community centre by Taber Adult Learning
Posted on 19 November 2021 by Ryan Dahlman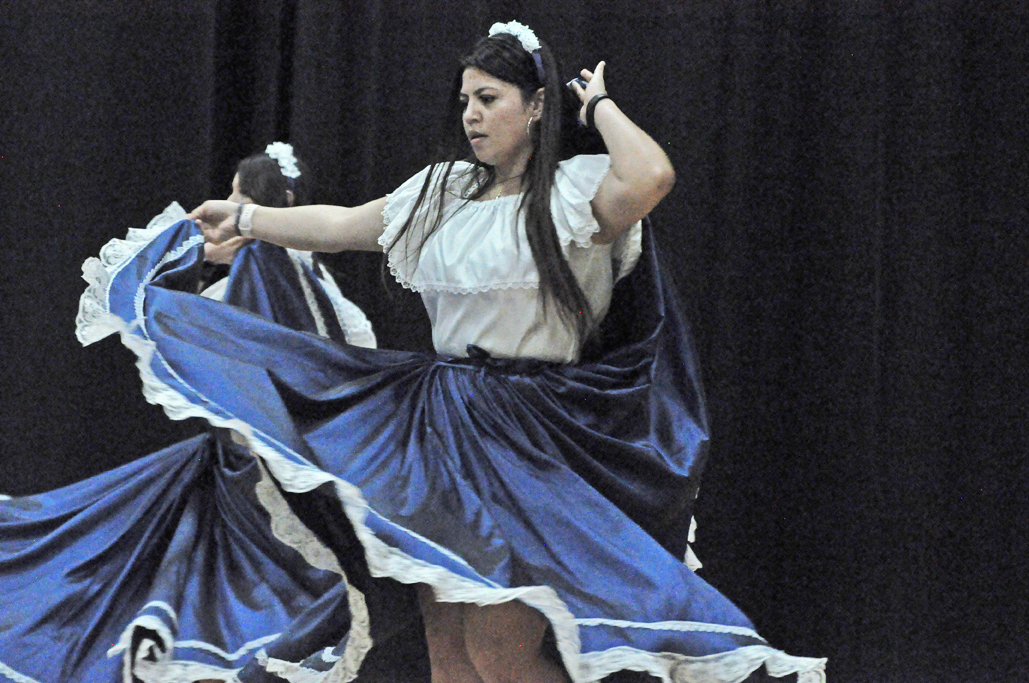 There were a lot of performers from Taber and the region who contributed to the education about their cultures at the Door to the World event.
Taber and District Community Adult Learning's mandate is to help people through various levels of education: teaching English to those newcomers whose first language is not English or need some sort of top up on their regular Canadian education; provide support systems for those trying to integrate into Alberta as well as help people navigate legal and government documents and forms.
However, Nov. 4, the Taber Community Centre's auditorium was full of personal displays, tables showcasing authentic food from various countries and a stage filled with various performers showing various traditional dances and music.
For Taber Adult Learning's Executive Director Cindy Slenders and Outreach Coordinator Zyna Taylor, the evening was a success and were happy with attendance considering it was challenging organizing considering all the pandemic-related protocols and regulations with the constant threat of province wide cancellations.
However, most of the evening there was a steady flow of traffic.
Taylor says the highlights for her consisted started with the food and the performers.
"With the food, we invited people from a lot of different cultural groups. We did have one group, here there was a restaurant, but the rest were just people cooking in their kitchen and bringing items and we had such a great selection," notes Taylor. "Really tasty stuff and everybody seemed to really enjoy that. We've got lots of comments on that, so that was a pretty cool thing. And then the dancing and entertainment you know, we had global drums from the University of Lethbridge and then we had lots of different dance groups. You know, from the area, and I think that was the highlight of the evening as well."
"I think much of rehash too, the performers, how engaged they were with the performer. The (University of Lethbridge) Global Drums really started the performances really well and they set the bar was that high," explains Slenders. "It was a great way to encourage people to get in. The cultural (attire) were phenomenal and just watching how people engage with the performance was just amazing. I think for me, that was the highlight and then listening to people as they were walking out the door as they were talking about the events, a lot of comments about the great food, about the performers, I think that was the highlight for me.
"It generated some awareness and just really highlighting all the different cultures and creating the awareness of all the cultures here."
Taber Adult Learning wanted to engage with patrons to see how the event unfolded. Those coming in to the free events were asked on a questionnaire why they came in the first place and what they wanted to experience. As they exited, they were asked to complete another short questionnaire to see if expectations were met.
So far, it looks like it was a positive experience for those who attended.
"We're right now knee deep in the analysis and so, we will have a more formal statement regarding the surveys probably in early December. But really what we were seeing was people who came they enjoyed it," explains Slenders. "They were there for a little R and R and bonus, people were always learning (during the evening) something that they didn't know before, which is really what the whole intent of what the whole event was."
Taber Adult Learning staff was also pleased they were able to contribute to a new enjoyable wrinkle in a public event.
"I hate to use the term the new normal, but it is kind of a return to something. I'm not exactly sure what I would call that something, but it's a return to normal activity activities again and what better way to deal with cultural events," adds Slenders. "This year, Zyna and I took a different approach to this event that we're working with how people can support the community rather than a newcomer event in itself which it has been in the past. And I do think this approach, this has been a proof of concept in that approach and the team will probably take that approach again," explains Slenders. "Of course, it takes funding in order to make something like this and a lot of volunteer hours put into it. But it also takes budget to be able to do that. We have applied to Alberta government for grants of works, which this would be one project of that. We're waiting to see if that grant is approved. If it isn't approved and we'll have to search for other grant dollars in order to do something like this. Some of the early indications coming from the Municipal District, the Town, they're very much in favor of this for an annual event. So if I have my opinion about it, it will be (an annual event)."
Taber Adult Learning is now pushing forward with its regular program and their new courses guide is coming out.
Their new program guide and course calendar is coming out which is called Vibrant Learning Catalogue. It outlines courses for anybody who are upgrading their skills, so that their quality of life improves. They also want to work with employers and community members if they have questions about how they can help. They also have a program which helps in that process called Brew Crew.
"Myself and one of my colleagues from the Newcomers Services Office are going and we're making visits to different businesses and organizations throughout Taber and what we do is bring a coffee and treat from McDonalds and we go have a really quick, like 15-20 minute conversation with them about what our two programs offer. And it's so it's for newcomers, of course that's programs that are designed to support themselves. People new to Canada and then on our outreach side that's supporting our local people, local businesses and helping newcomers get integrated and provide resources for them. So it's kind of like two sides of that, that issue. And so we're open to visit anybody who was interested in that. We have had quite a number of visits already and they've gone quite well. People are generally quite pleased to get the information. Of course nobody, nobody hates a free coffee and doughnuts."
They are also excited about announcing the three award recipients of the Jane Brenner Literacy Award at their annual general meeting in December.