Southeast Alberta food banks going through turbulent times
Posted on 17 November 2021 by adminis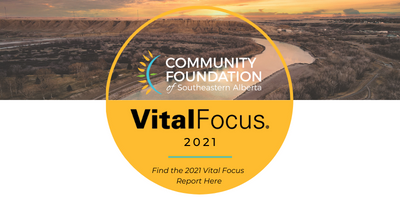 Local Journalism Initiative Reporter
Between the effects of the pandemic and the rising price of groceries, it's been an unusual year for food banks across Southern Alberta.
The Brooks Food Bank has been seeing approximately 10–15 more families every month than they did pre-pandemic, said food bank manager Aurora Champlone. 
"In the first year of COVID, we actually saw a decrease around this time of the year, when there were more benefits and things like that kicking around," said Champlone. "And we're seeing quite a jump from that time." A recent presentation to the board by Champlone documented a 66% increase from numbers seen in 2020
Despite this significant jump, the Brooks Food Bank has been more than able to meet demand, perhaps unusually in part due to the high prices at local grocery stores.
"For a food bank, high food prices often mean that we end up receiving that food due to agreements we have with Food Bank Canada. So a lot of the high prices mean that no one in our community can afford it and use it ends up at the food bank. So there's a kind of a double edged sword there," said Champlone. "Some of the things that we have had to really notice price increases are fresh, like butchery costs for fresh cows and definitely very high prices on fresh fruit and vegetables."
The Brooks Food Bank serves both the City of Brooks and the surrounding rural area, but Champlone notes that they don't keep track of usage between the urban and rural residents, only that the increase in demand has thankfully been met with generosity from the surrounding community allowing for them to operate smoothly.
"Demand is high. But we're able to meet it because it's such a great community, and we're trying to meet that demand with our own supply," said Champlone.
In the County of Forty Mile, however, the story is somewhat different.
"Total demand is very similar, but a little more sporadic and times of year, like it used to be those more regular, but now they just lose more peaks and valleys," said Rob Van Roessel, President of the County of Forty Mile Food Bank.
The food bank does not try to analyze the reasons behind trends in usage, and as such is unsure what is contributing to the irregular spikes in demand from the area they serve, which spans the entirety of the county.
Despite this unusual schedule, however, Van Roessel notes that donations in the community have increased since the beginning of the pandemic and continued to now, allowing for no issue keeping up with an unpredictable schedule.
"There were some government programs that were able to distribute some money to all food banks. So we did get the little cash influx from that, and the local community has been very generous in the past two years," said Van Roessel. "We're definitely very happy with her community support."