Meth seizure is one of Medicine Hat's largest
Posted on 17 November 2021 by Prairie Post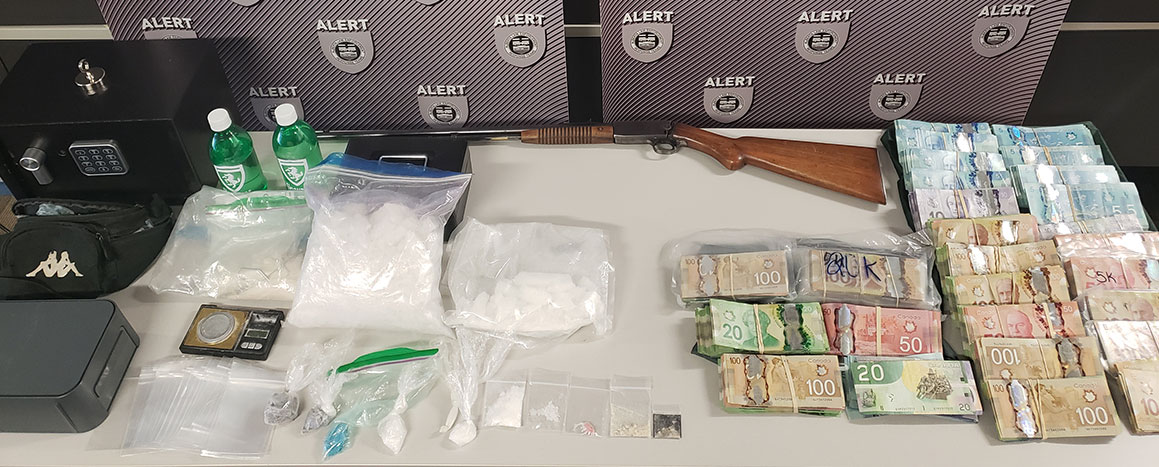 ALERT has seized nearly two kilograms of methamphetamine as part of a major drug seizure in Medicine Hat. The meth seizure is believed to be the city's largest.
ALERT's Medicine Hat organized crime team seized 1.9 kilograms of meth from a home the South Flats area. The record seizure was realized on November 5, 2021 after four search warrants were executed, bringing the two-month investigation to a close.
One person has been charged, while additional arrests are anticipated. Medicine Hat Police Service provided assistance on the investigation.
"Disrupting the meth trade has been a priority for ALERT over the past several years. Together, with our partners in Medicine Hat Police and RCMP, we have taken significant quantities of meth off the street and arrested more than 100 suspected dealers since 2018," said Inspector Sean Boser, ALERT Regional teams.
"The presence of methamphetamine is not only harmful to drug users, but also negatively impacts the overall health and safety of all citizens of Medicine Hat. Police agencies are committed to working together to disrupt drug trafficking networks and keep the community safe," said Inspector Brent Secondiak, MHPS.
The value of the seizure is estimated at $235,000, and included:
• 1,900 grams of meth;
• 59 grams of fentanyl;
• 15 grams of cocaine;
• 55 tabs of LSD;
• 2.5 grams of MDMA;
• 900 milliliters of GHB;
• 7 grams of psilocybin mushrooms; and
• $100,610 cash.
A firearm was also seized and will be submitted for forensic analysis.
Robert Pegoraro, 24, was charged with possession of drugs for the purpose of trafficking, possession of proceeds of crime, and several firearms-related offences.
The 1.9 kilogram meth seizure eclipses what was thought to be Medicine Hat's previous largest seizure of 1.7 kilograms that was realized in April 2020. ALERT Medicine Hat also seized 1.13 kilograms in July 2019 and 1.02 kilograms in December 2017.
In 2021, ALERT teams from across the province combined to seize more than 57 kilograms of meth.
Members of the public who suspect drug or gang activity in their community can call local police, or contact Crime Stoppers at 1-800-222-TIPS (8477). Crime Stoppers is always anonymous.
ALERT was established and is funded by the Alberta Government and is a compilation of the province's most sophisticated law enforcement resources committed to tackling serious and organized crime.