Vital Signs report was well worth the effort
Posted on 17 November 2021 by Ryan Dahlman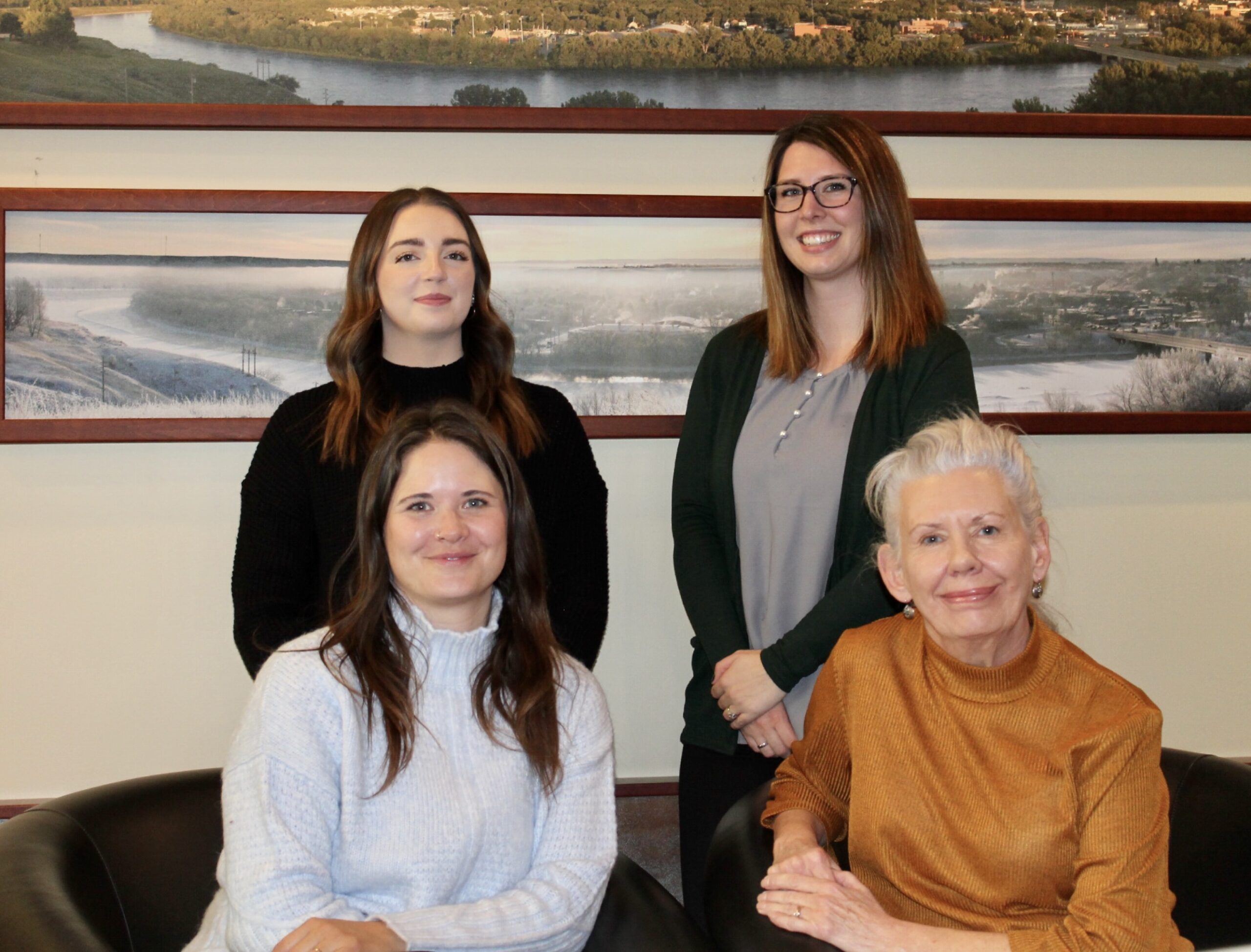 Photo contributed Clockwise from top left: Hannah Minor, Sydney Ratzlaff, Barbara Kenworthy and Niki Gray.
The philanthropic and research group, the Community Foundation of Southeastern Alberta recently presented a state of the current status of the socio-economic status quo of southeast Alberta after a year hiatus due to Covid-19.
The group released Vital Signs, their check up of the condition of southeastern Alberta from society perspective. They release these type of reports every one or two years. The last one was 2019 and before that the report had been issued every year from 2007-2017.
The CFSEA describes the 2021 edition in this way: "This publication focuses on the COVID-19 pandemic and the impact that it had in our communities. The Community Foundation of Southeastern Alberta witnessed the establishment of community partnerships and collaborations in the wake of the COVID-19 pandemic which affected virtually every aspect of our daily lives. As a result, this report focuses on three impact areas that were substantially affected by the pandemic: Mental Health, Work & Economy, and Vulnerable Populations (highlighting food security, housing stability, and domestic violence)."
Hannah Minor, Program Coordinator, Community Foundation of Southeastern Alberta and one of the leads on the 2021 Vital Signs project says it was the firs t such report she has completed and acknowledged there was a lot of time and planning that went into the report.
"You have to respect what goes into it," explains Minor of the 20 page magazine-style report. "It's not an easy feat that's for sure."
The process started in May and ended in about September, so took a few months to get it to get it all done. They decided that topics like mental health, economy, vulnerable populations, were all needed and then sub-topics such as domestic violence, housing and food insecurity came along. Mental health was the beginning of the resource and statistics on the state of mental health and related agencies began. Research was done and then compiled it into a smaller draft report. CFSEA got together with individuals and agencies in the area in the communities throughout southeastern Alberta, that deal with mental health, and presented their findings to them and then held a focus group on it. A lot of the statistics were mixtures of national, provincial, Minor says "there wasn't a ton of local data."
"We really wanted to make sure that we checked in with these agencies to make sure that it was representative of what our areas were experiencing," explains Minor. "We took their feedback kind of adjusted as we needed to and finished writing that part.
"We did have a committee of Vital Signs subcommittee, and there were a few members of that committee that had worked on previous ones. So they definitely you know, steered us on where to find these stats, where to go about starting it, but for a lot of the original stats, it was a lot of Stats Canada. They keep phenomenal statistical records. So a lot of it was Stats Can a lot of it was a lot of these agencies have compiled their own reports.They have their own statistics, you know, in annual reports and specific reports that they do and so a lot of the information that we got was kind of already out there. We just compiled it out for the focus groups and you know, being a lot of that was in how people knew like if someone knew a contact, we checked in with them, a lot of it was a fair bit of Google searches too which goes a long way. And yeah, basically see what agencies, organizations and individuals are in our community and then reaching out to them through that."
The local information could be difficult to track down because a lot of these statistics are underrepresented, or maybe not fully clear like the number of suicides or domestic violence. She says given the stigma attached to both, the cases often go unreported.
"So a lot of the data that we got, it offers a glimpse, but it doesn't represent the full picture and so that was one challenge that we really faced, was the stigma attached to a lot of this information kind of affected the representation of it," says Minor. "One challenge we also found was finding local data for not only for Medicine Hat and Brooks in, you know, kind of the bigger municipalities but also, especially for rural areas. It is not easy to find local data. You know, we found some provincial, there was a lot of federal kind of national data, but local stats were definitely trickier. To come by, especially for smaller, rural and remote areas."
But they found it and while it is very comprehensive, it is easy to read and it is well presented. Minor says there has been a lot of interest in the report from everyone from politicians of various jurisdictions, policy makers and other social organizations looking to find out information from one source.
Minor says the report was made during the time of the pandemic and southeastern Alberta faces a lot of challenges.
"There are some heavy statistics. There's some heavy stories. We really tried to highlight some positives. We have a little section that highlights some positives," Minor states. "But I think overall, you know, while it does identify gaps and potential problems, that we do have in the communities, it also highlight ways to support them, what, how they've been helped already, how they're going to be helped in the future. I think by seeing this document and reading it, it's going to initiate those conversations that we need to be having to address all of these problems to work towards solving them. You know, they're already being worked towards and so we're really just hoping to further that progress that we've already made in addressing these concerns that are highlighted throughout it."
There were many people working on the document. The Signs Project Team includes Minor, Sydney Ratzlaff, (Community Engagement Coordinator); Niki Gray (Acting Executive Director); Barbara Kenworthy; Danielle Semrau-McLean; Glenda Hawthorne; Jason Openo and Karen Blewett.
(In upcoming issues of Prairie Post, we will feature stories which stem from the report)