Galt Museum receives unique and value able clothing donation
Posted on 11 November 2021 by Prairie Post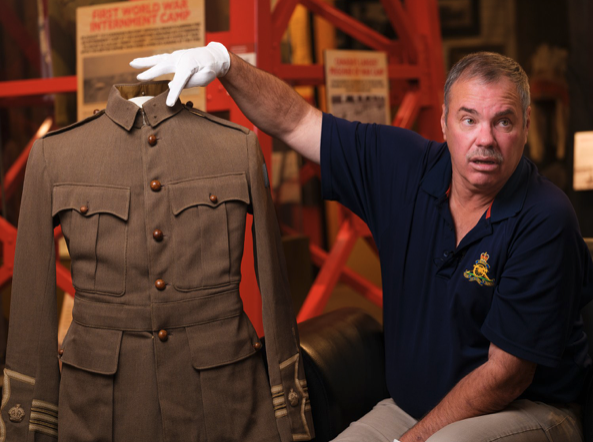 Glenn Miller indicates portions of Major A. B. Stafford's uniform. Photo courtesy Galt Museum & Archives
Community members have donated many objects with fascinating stories and histories to the Galt Museum & Archives. 
This year, the Playgoers of Lethbridge donated a unique officer's jacket from the First World War.
"Back in 2017, I was invited to investigate the Playgoers' costume cage at the Yates," says Collections Technician Kevin MacLean. "Its contents were being temporarily relocated for the theatre's renovation. Playgoers members suspected that some of their costuming materials might have cultural heritage value—and they were right!"
MacLean withdrew a handful of military items back to the Galt for closer examination and to confirm their value as potential additions to the museum's permanent collection. During the examination process, Collections Assistant Kirstan Schamuhn discovered an obscured, handwritten name on a collar label inside a First World War officer's uniform jacket. The label recorded the jacket's wearer as "Maj. A. B. Stafford." How and when Stafford's jacket was deposited within the Yates basement costume cage is unknown.
"Major Alexander Boswell Stafford was the first Battery Commander of the 39th Battery raised out of Lethbridge in 1915," says local historian and retired Warrant Officer Glenn Miller." The uniform helps tell the story of A. B. Stafford's life and military career. It's a valuable addition to the Galt's collection."
Stafford was born in Nova Scotia in 1877. He married Mary D. MacIntyre of Lethbridge and later enlisted to fight in the First World War in December 1915. He was sent to Europe in command of the 39th Battery of the Canadian Field Artillery at the rank of Major. He fought in the Battle of Vimy Ridge in April 1917. Months later, he was critically wounded at Vimy by a German shell on June 23, 1917. He died the following day. His final resting place is in the Noeux-Les-Mines Communal Cemetery, not far from Vimy.
Stafford's uniform records the story of an injury he sustained prior to his death. "The left sleeve of the uniform has what is known as a 'wound stripe,'" says Miller. "The authority to have a wound stripe on a uniform was the casualty list. So we know that Stafford was wounded during the war before his death. We also know that he would have worn this uniform between the time when he was wounded and when he died."
"The uniform complements another Major A. B. Stafford-marked piece already within the Galt's collection: a Memorial Cross, donated in 2010," says MacLean. "This was one of two such medals that were awarded to his spouse or mother. The museum has no idea which of the two was the medal's recipient nor how it was previously housed in a storage locker in London, Ontario. In spite of the two items' irregular discoveries, they are extraordinary records of Lethbridge's artillery and First World War pasts, preserved at the Galt in perpetuity for Stafford's descendants and the Lethbridge and area community."
"These objects that tell the stories of people who served in the First World War from Lethbridge and southern Alberta are difficult to find," says Miller. "There are artifacts from this time, but they are in homes, barns, or elsewhere. They aren't readily accessible to researchers, the community, or perhaps even to their own families. Many of the stories that these objects can tell have been somewhat lost or forgotten over the last century since these treasures and memories were kept private. But the small clues we can find on these objects—like a wound stripe, clothing labels, or even missing patches—can be used to find out more about the people who used and earned these objects and medals."
"We are open to receiving items related to artillery units based out of southern Alberta to preserve and share for current and future generations," says MacLean.
"Our mission as an institution is to 'engage in the human history of southwestern Alberta, together, preserving and sharing collections and stories,'" says Executive Director/CEO Darrin Martens. "With the help of observant community organizations like the Playgoers of Lethbridge and community members like Glenn Miller, that's exactly what we are doing with the jacket and medal that belonged to Major Stafford."
The Galt Museum & Archives houses a collection of 750 objects related to military service, which can be explored in the online database at collections.galtmuseum.com. Since the jacket was only recently accessioned, it is not yet accessible via the database, but will be in 2022.