NDP agriculture critics tasked with generating revitalizing ideas rural economy
Posted on 10 November 2021 by Ryan Dahlman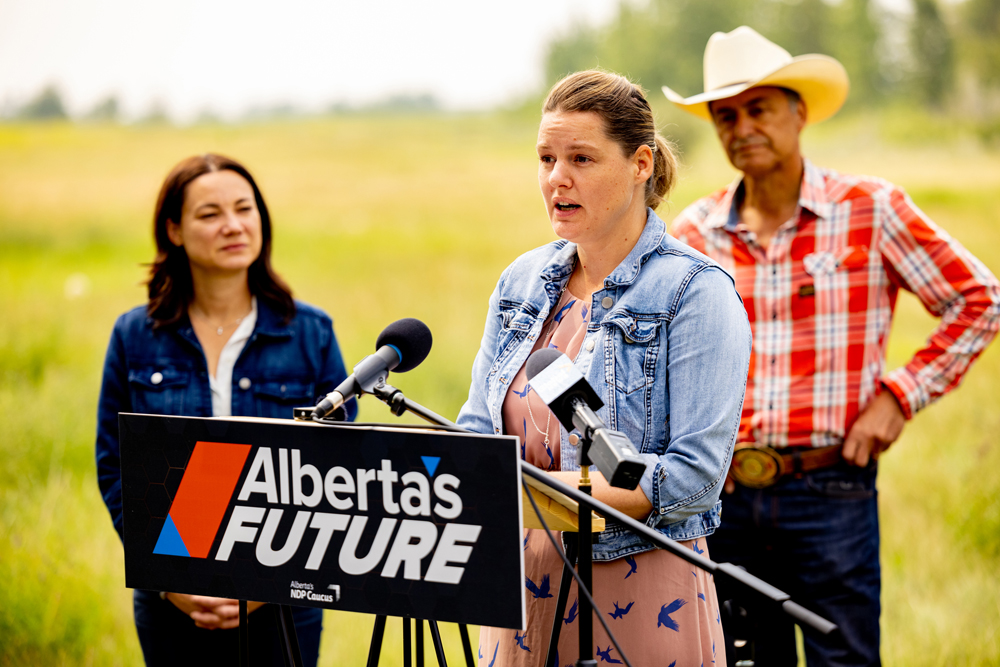 Heather Sweet is the agriculture critic and no whas the rural economic development portfolio.
Provincial Alberta NDP MLA Heather Sweet has been the Agriculture and Forestry critic for the province's opposition and now was recently giving the Rural Economic Development Critic portfolio.  
She also held a virtual consultation with Albertans on Agricultural Innovation last week which she declared a success.
While Sweet's constituency is Edmonton-Manning, her ties to rural Alberta run deep. Her parents live in southwest Alberta so between that and her own keen interest in the rural area, she has been working to find out what those in Southern Alberta are thinking.
"I'm very honored and excited to be the critic for rural economic development. We know that we need to keep our young, vibrant leaders in our rural communities," explained Sweet who was first elected in 2015. "And so for me, the focus right now is broad because of course rural Alberta needs to see community supports, that they have their vibrant communities that ensure that people want to stay in working in rural Alberta. So that means that we need to be looking at making sure our post secondaries (schools) are close by, that the programs that are being offered are affordable and that our young leaders want to be part of that. (The government needs to ensure) that also that we are supporting them with health care and education and strong communities so that they want to stay close to home. And that's what keeps driving rule over in most rural communities is making sure that our young people continue to be employed in those communities and continue to help be the economic drivers for those communities."
The Albertans on Agricultural Innovation talk was a major success for Sweet and her colleagues.
"We've had almost 600 people registering from any of those consultations. We have lots of ideas and of course some were going back to our roots being entrepreneurs and leaders in our economy," explains Sweet. "What we heard was very clear from many people on the call which was basically that to be innovators in Alberta, we need access to rural broadband. We need to be able to support rural Albertans to be able to drive their businesses from home and out in the field. And that also, they have lots of ideas when it comes to expanding our greenhouse operations looking at crop management, as well as looking at how we support our livestock industry."
Another part of her research involved going and meeting with stakeholders in rural Alberta during the summer. It was limited due to pandemic restrictions, but she was able to get a feel for concerns Albertans had. All of the different ideas and perspectives she learns about will be part of the Alberta's Future initiative that the NDP launched. It is an over year long process where the Opposition wants to hear what Albertans are thinking.
Recently it marked one year since the NDP launched Alberta's Future. In a release, it stated that "the NDP have held nearly 40 public consultations and have engaged over 50,000 Albertans through the project. Sweet will help continue this initiative as the NDP develops policies directly related to rural economic development such as a rural broadband strategy, generating agriculture innovation, and supporting small businesses."
Having adequate broadband in all of rural Alberta, having the technology in order to keep up with all the innovation and communication in today's society is important.
"I think we need to be doing need to make sure that our secondary schools have the spaces for the students that want to stay in Alberta. So that's looking at being innovative in looking at being innovative and looking at veterinarian services (for example), all of those different programs that are being offered, and then making sure that they're close to home so that we don't have a burden leaving to go to post secondary and other provinces and then building their families in those provinces. We want Alberta Albertans, to stay in Alberta, to have access to post secondary education that they want, and then to be growing their families here in Alberta. And so of course, that is a huge focus for us is that post secondary needs to be funded appropriately. We need to make sure those spaces are available and that we're supporting young Albertans."
Sweet indicated she and her colleagues are doing summary reports about what they're hearing from Alberta. She will be advocating to Alberta's Agriculture department about they should be looking at but it will also assist them in future policy making.
Sweet's political career has been bright. Sweet had also been the opposition's Democracy & Ethics Critic. That is now the portfolio of NDP Deputy House Leader and Infrastructure Critic Thomas Dang. According to the NDP site, Sweet spent over a decade as a registered social worker in child protection and also worked with the Métis Child and Family Services Society.