Sugar beet farmer says no-till grow trial worth repeating
Posted on 15 August 2023 by Ryan Dahlman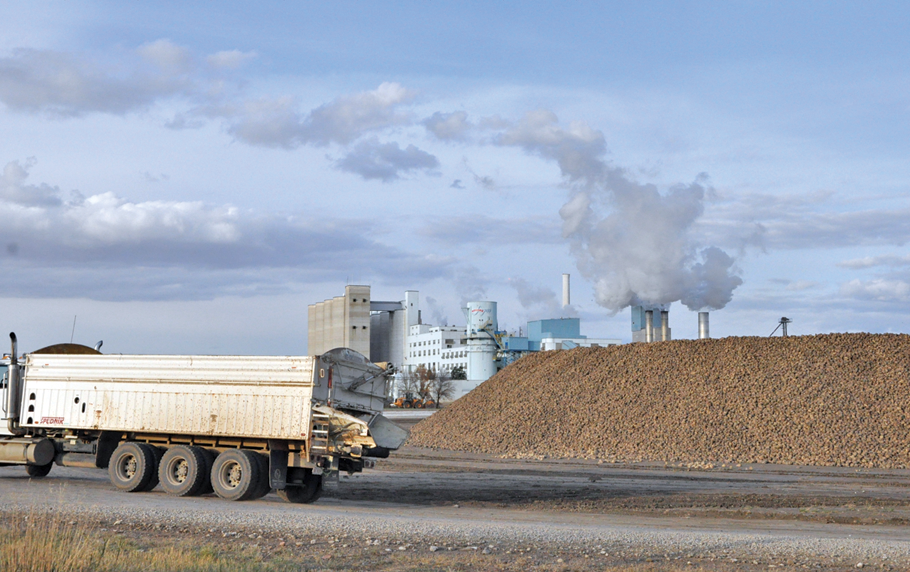 By Erika Mathieu
Sunny South News
Sugar beets which were seeded directly into barley stubble have proven to be a successful venture for one farmer in Lethbridge County.
Gary Vucurevich farms in Lethbridge County and shared his findings on a no-till sugar beet trial, presented on July 27 as part of Farming Smarter's Rolling Innovation Tour, a bus tour which transports participants from site to site, providing direct access to various agricultural experts and producers in the Lethbridge County region.
Gary Vucurevich said this year's sugar beets "look very good. Sugar beets like warm dry weather, and we've had that in abundance so far, and I don't see any end in sight for a while," adding, "the sugar beets are doing well provided we can get enough water on them and I think so far we have, and hopefully we can get a little bit of a reprieve from the heat so we can save some water."
Vucurevich presented on a no-till experiment his team did on a field of sugar beets, and although it was the first time he had used this process for sugar beets, he said other regional growers have had success with the technique already.
"The first thing I'd like to say is we're not innovators doing this, there's been many friends and neighbours that did this pretty successfully with beets in the last 10 or so years, so we knew going in that when we wanted to try this, that, you know, someone had did it before successfully. That kind of reduced the risk and made this decision…much easier." In 2022, the same farm grew barley, which was combined before bailing off the straw resulting in "pretty significant chaff rows after bailing."
In the fall of 2022, Vucurevich ran a heavy harrow (high-powered tillage equipment) to break up some of the remaining chaff and straw, unaware that winter would roll in earlier than expected.
"We did not get our fertilizer applied in the fall here like we normally like to, and that was true of all of our 2023 beet fields," he explained. Which meant that going into the spring there was pressure to get the fertilizer down before planting.
However, upon examining the farm's soil test results, they found, "there was in excess of 500 pounds available in the soil to grow sugar beets, you need 200-220, so we had a lot of nitrogen available." Due to this nitrogen availability, "we knew we didn't have to put anything down so that was another factor that made this a good candidate for no-till," and said that, in combination with how dry it was, "we thought it would be good to, you know, simply put seed in directly into untilled soil."
The sugar beets came up "pretty rapidly" this year. Citing the warm weather and pivot irrigation, the seeds germinated and emerged within the first week, which Vucurevich said is "quick for beets."
The team noticed early on that the swath effect from the previous year's combining resulted in a thinner stand (space between crops) in those swaths and resulted in those beets pushing through that swathed straw more slowly, and with thinner stand. However, the trade off was that Vucurevich and his team observed that between the straw rows, the stand was actually superior to any of the other tilled fields. Even with the slower start for the beets in the chaff rows, the side by side comparison of the two fields at this stage is relatively green and uniform.
"My observations are that between the straw rows is excellent stand and possibly a better crop than anywhere else. However, when we factor in the straw row effect, that is going to bring the yield down."
With respect to the difference in soil fertility, fertilizer was applied to the side which had had manure deposits in recent years, but Vucurevich said this is a balancing act as well.
"With (sugar) beets, you really want to manage your N (nitrogen) fertility. If you have too much, that's going to hurt your quality," with higher overall tonnage, but a degradation in quality, "so it's kind of hard to figure out, and hard to for me to make a prediction as to what is going to be the better yielding side."
When asked if he would try this no-till technique again with sugar beets, Vucurevich said, "I think, yeah if the opportunity presented itself. It worked out fine; it's probably worthwhile even with the swath effect, I think overall we'd still do it," noting he would prioritize spreading out the chaff and straw a bit more thoroughly than was done in this trial.