Western Tractor assists students in Ag-Pro careers and technology course
Posted on 6 June 2023 by Ryan Dahlman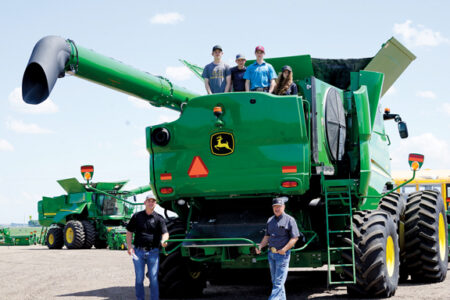 By Samantha Johnson
Alberta Newspaper Group
A group of 12 students from Irvine School were at Western Tractor this week as part of a pilot for the new Ag-Pro careers and technology foundations options. The students were split into three groups and each went off to learn a different area of the dealership – sales, parts and service. The News got to tagalong with the sales group, who were taken through the process of a sale of a combine by Scott Hershmiller and Coby Schacher.
The real fun began outside when the students got to explore a combine and see the inner workings before climbing into the cab to drive it around.
Hershmiller has been with the sales team at Western Tractor for four years. He been in sales since he was 21 because he loves interacting with people. It's been a steep learning curve as he didn't have an agricultural background and had never been in a self-propelled combine before joining the company.
"For me it's been lots of training, reading, and research and learning from Coby and our team inside. My first year I sold 16 combines," said Hershmiller. "It's been a real learning curve and I couldn't ask for a better industry to be in. This industry isn't going away and is probably one of the most important in the world with food shortages and drought."
Hershmiller felt it was important for the students to have this experience so they understand all the different aspects of agriculture.
"There is so much more to it, the technology side, the fun of doing sales, there is service and parts, being a technician, in the trades, being an accountant, we have an accountant's office in Lethbridge. There are so many things we do just as a dealership that they can be involved in agriculture to help support growers. Unless the kids are shown all the different options, they might not ever know."
Parker was part of the student group with the sales team and said, "I think it will be a really cool experience because farming has always been a big passion of mine and John Deere is one of my favourite companies."
His family ranches south of Elkwater and he likes being around equipment, the bigger the better.
Nichole Neubauer, who had the idea of creating these option courses, discussed job opportunities in research and development in agriculture, data management, technology and crop development sciences. With Western Tractor as the pilot, it is hoped that additional CTF options will be added into the Ag-Pro stream so students can spend time with professionals, ask questions and do their own research.
"Interestingly enough," said Neubauer, "with this particular option class, we capped it at 15 to keep it manageable. The level of student engagement was impressive, we had 15 kids within five minutes of telling them about it. They are very excited."
Additionally, the Ag-Pro options is they could lead to summer student jobs, such as washing equipment, or even permanent employment in the future.
"It's available to all junior high students. This fits in nicely with the Agricultural Discovery Centre and our belief in rural education and inspiriting students to pursue careers in agriculture," stated Neubauer.