Swift Current scientist receives national recognition for organic research leadership
Posted on 1 June 2023 by Ryan Dahlman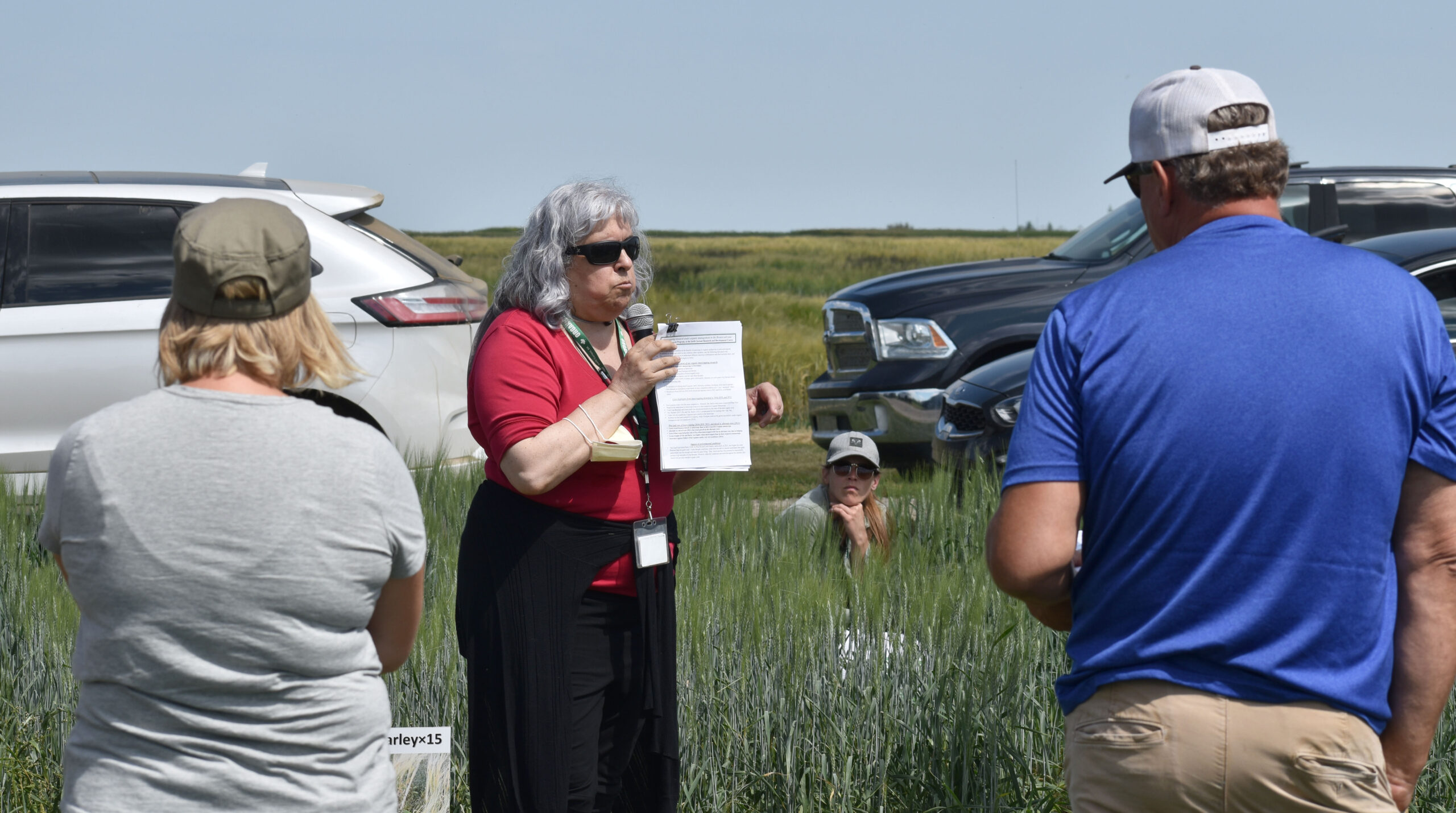 By Matthew Liebenberg
A research scientist at Agriculture and Agri-Food Canada's Swift Current Research and Development Centre (SCRDC) has received national recognition for her research in organic agriculture.
Dr. Myriam Fernandez is the recipient of the Canada Organic Trade Association (COTA) Outstanding Leadership in Organic Science award for 2023.
"It is an honour," she said. "It is nice to have that kind of recognition after having dedicated so many years to organic research. We have been doing organic research for many years now."
She has been a scientist at the SCRDC for over 30 years and her involvement with organic research began in the late 1990s. This research work eventually led to the establishment of a multi-disciplinary organic research program at the SCRDC.
"This program has included a variety of projects over the years, which are aimed at making organic agriculture more sustainable, more resilient and also more productive," she said. "The success of our research has been achieved due to the collaboration of many partners and the guidance and support of organic producers."
She felt this award serves as a confirmation of the relevance of the research work done by the organic research program at the SCRDC.
"In a way, this award reinforces our passion for organic research, the multiple possibilities to continue to advance this work in the years to come, while also showing the numerous benefits of organic crop production, which is one of our objectives," she said.
Dr. Fernandez referred to the contribution of various roleplayers to the success of the organic research program at the SCRDC.
"I should acknowledge colleagues and all our support staff involved in our organic research program and the collaboration of multiple partners," she said. "The research that we do is supported by funding agencies that have been very generously supporting our research activities and we have also been receiving increasing support for our various projects from Agriculture Canada."
COTA's annual organic leadership awards were established in 2016 to recognize innovators and leaders in the organic industry. Recipients of these awards are nominated by their peers and chosen by the COTA governance committee of the board of directors.
Dr. Fernandez has contributed to 130 peer-reviewed publications. She received a BSc from York University and completed her MSc and PhD degrees at the University of Toronto. An important aspect of her research work has been to develop a better understanding of crop diseases and she also became interested in researching its impact on organic systems.
"I was involved mostly in pathology and Fusarium head blight was one of the main areas in which I did research," she recalled. "Not only fusarium head blight, but also Fusarium root rot was one of my main areas of research and it continues to be, because we are looking at the development of root rot in organic production."
Her research work has compared crop diseases between organic and non-organic systems, the effectiveness of reducing tillage and benefits of diversified crop rotations, cover crops and intercropping on crop productivity, and soil and crop health under organic management.
"We have been looking at the impacts of different cropping systems on root rot, especially root rot of legumes and pulses and also cereals," she said. "And that got us into a different area of research, which I had also been involved with before, which is biological control. For example, yellow mustard in particular, but mustard in general seems to be associated with micro-organisms that have bio-control potential. When we grow mustard with a legume or a pulse, then we see a decrease in root rot in the legume and it's the same kind of impact that we see in crops that are grown after the mustard, because those organisms seem to persist in the soil."
The multi-disciplinary organic research program at the SCRDC was started around 15 years ago. She recalled the first piece of land was converted to organic in 2007 and thereafter more land was added. As a result, the land available to the program has grown from the initial seven acres to the current 23 acres for different projects.
"One of the main objectives over the last two years has been the adaptation of different cropping systems to our environment while making them more sustainable and resilient," she said. "What we do is also a benefit to other regions that might not be so dry as we are here, but regions that might undergo similar challenges due to climate change."
An important component of the organic research program is to communicate their findings to producers and the industry through different events, for example organic and low-input field days.
"A lot of non-organic producers have adopted our methods, in particular in regards to weed control or soil fertility and other factors as well," she said. "So the benefits of our research is not just for organic producers, and that's why we call our events organic and low-input, because it benefits low-input producers who might use synthetic inputs and also those producers looking more and more for other methods due to the cost of inputs and also the increase in herbicide resistant weed."
The multi-disciplinary nature of the organic research program at the SCRDC is an important aspect of its success. She was trained as a plant pathologist and other team members include soil and crop scientists.
"We need that to understand what's going on and in order to understand the impact that different cropping systems might have," she said. "The two major cropping systems that we're working on right now is intercropping, where we grow more than one crop at the same time that has multiple benefits, and cover crops, which are important for many different reasons. One of the main reasons is contribution of carbon to the soil and soil fertility, and also carbon sequestration."
The intention of this organic research program is to do research that will benefit organic producers, especially in this region.
"It is difficult to quantify, but we know the findings that we have and that we disseminate contribute to the knowledge that producers have for farming in a more sustainable way and contributing less to climate change and contributing to soil and crop health," she said. "When we started this work, there wasn't really much or anything in regards to semi-arid environments and that has made a big difference. We're trying to show that it doesn't matter what kind of environment you have, you should have to adapt certain cropping systems to your environment."