PIP International's new tech putting pea protein back on the table
Posted on 18 May 2022 by Prairie Post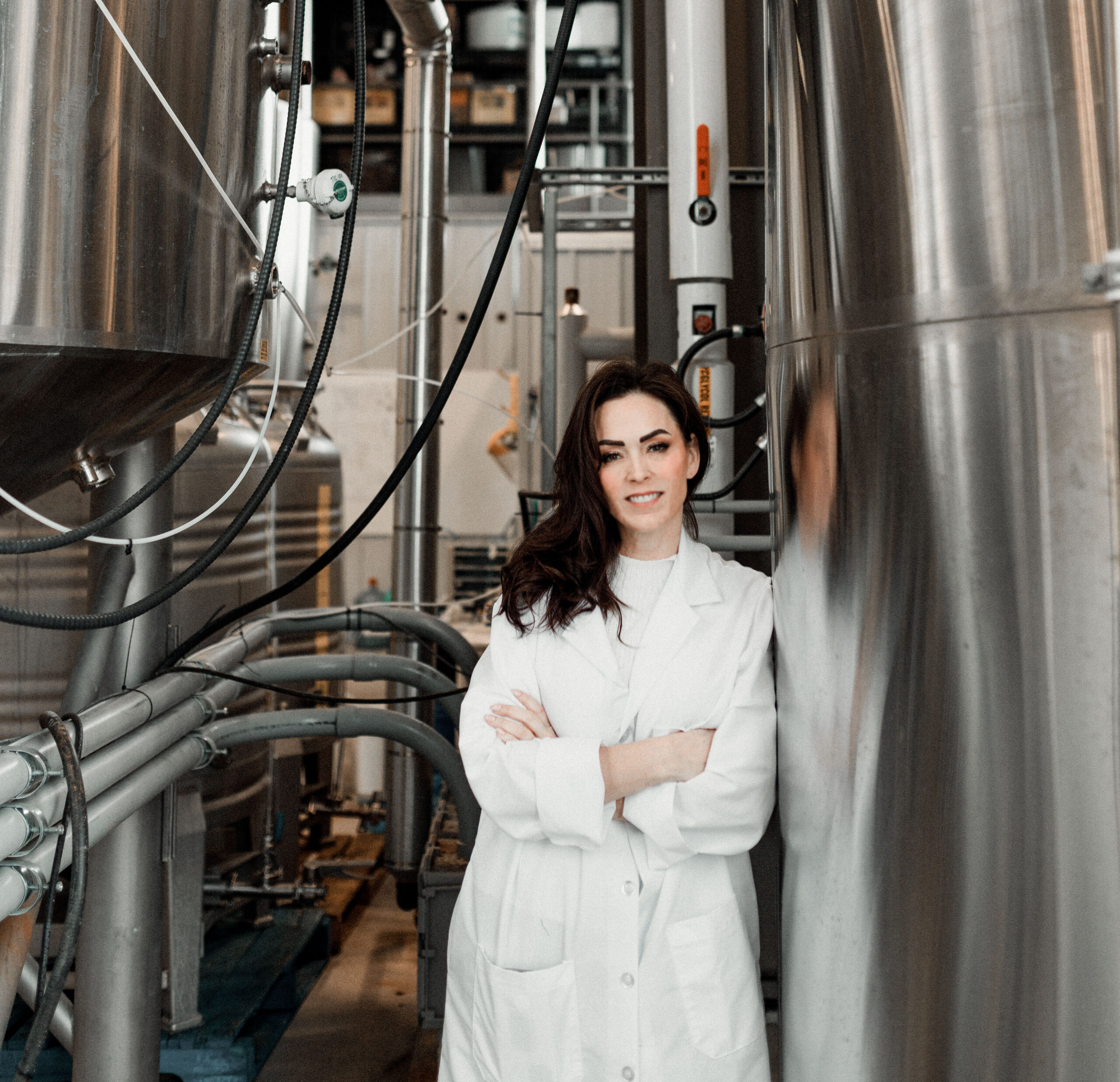 Christine Lewington, founder and CEO of PIP International, uses a new technology involving plant proteins. Image courtesy Anita Jeanine Photography
By Nicholas Allen
Alberta Newspaper Group
A new breakthrough in plant-based proteins is coming to southern Alberta.
Lethbridge ag-tech plant-based processor, PIP International (PIP), announced a new technology involving plant proteins on May 10.
The technology has "cracked the code" on pea protein's taste, colour, texture and performance according to founder and CEO of PIP International Christine Lewington.
"There's a lot of peas around in southern Alberta and in the region. But why were more people not using [pea protein]? And it's because of the bitter taste. And so, my partners and I went out in late 2019 and discovered a new technology in France," said Lewington.
Lewington said the process separates out the proteins without damaging their properties.
"Almost all processes out there now focus on the starch and fibre as the main [product], and then they pull the protein out. We focus on the protein and make sure it's taken care of first," said Lewington. "We take the starch and fibre out similarly, but we focus on making sure the proteins are taken care of."
PIP worked with the company IMPROVE SAS for over two years to commercialize the technology, said CEO of IMPROVE SAS Denis Chereau.
"PIP owns an Exclusive Master License Agreement for IMPROVE's innovative, patent pending, sustainable extraction technology that will bring the cleanest tasting, highest functioning, most sustainable pea protein to the market," said Chereau.
The agreement was signed in 2020, with the process design being finalized in 2021 according to Lewington. The new protein is called the "Ultimate Pea Protein" or UP.P for short.
"We were looking around saying we're going to up everybody's standards, we're going to up consumers expectations… And we kept saying 'up' and one of our team members said we should call it that," said Lewington.
The naming of the protein was simple compared to the development of the technology and the resistance from old ways of thinking about the process, explained Lewington.
"I had several engineering firms and vendors saying what I'm asking them to do can't be done because it's never been done before, and it can be done and we are doing it," added Lewington.
She explained how important this was going to be for southern Alberta as Lewington said agricultural processing hasn't seen a technology like this "for decades" and they will buy directly from farmers, improving the status of peas as a crop.
"They're not a cash crop because they might break even on them. They sell them for pig feed, but we are going to be able to give them contracts like canola gets contracts… we now have a cash crop for farmers that they can rotate in because peas fix the soil. They put nitrogen back into the soil," said Lewington.
That positive environmental impact is important to PIP, according to Lewington, who said they have reduced water use by 30 per cent in the protein extraction process, among other things.
"On top of that, we are building a solar farm and we have a thermal battery that we're going to be able to [use for] energy storage… we have several green initiatives that we're implementing that the industry hasn't used before, all the way to the point where we're taking some really neat technology and putting it on our glass so that it corrects the HVAC, so our building [energy] loads aren't going to be as heavy," said Lewington.
She said there is significant interest from food manufacturers in developing new products from UP.P with samples of the protein. Lewington said the plant-based protein industry is expected to reach over $14 billion (USD) in the next few years.
When asked what products she is most looking forward to seeing developed from UP.P, Lewington said that she wants to see a "great-tasting plant-based ice cream" along with plant-based milk.
"Any of the plant-based milks in the industry right now are what they call an indulgent. They're more like sugar water because they don't have a nutritional profile of cow milk. But if they add our pea protein to it, the nutritional profile will actually be greater than that of dairy," said Lewington.
Lewington said that PIP is excited to introduce their new pea protein, as they "saw what others have seen, but we are now doing what others have never done."
Visit pip-international.com to learn more.