10th Annual Discover the Farm: A Farm Facts Experience 
Posted on 5 May 2022 by Prairie Post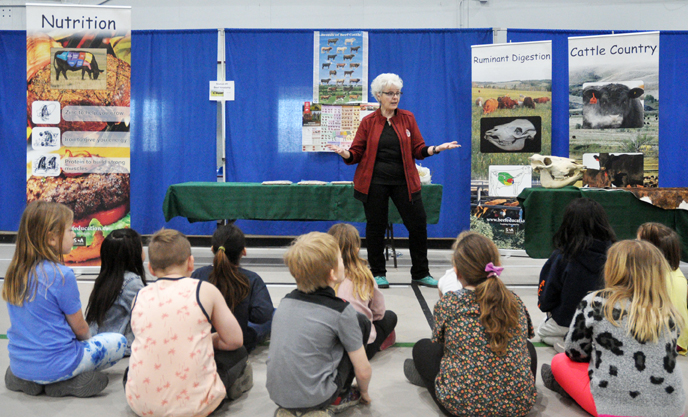 Val Marie rancher Sherri Grant speaks to a group of students from All Saints Catholic School about beef production at Discover the Farm, April 28. Matthew Liebenberg/Prairie Post
The Swift Current Agricultural and Exhibition Association hosted our 10th Annual Discover the Farm: A Farm Facts Experience & Progressive Agriculture Safety Day, in-person at Kinetic Park, on April 27 & 28, and virtually May 3 & 4. 
Being the first field trip in 2 years for many of these schools, Discover the Farm had a huge uptake in registrations from previous years which resulted in over 1,000 students in attendance either in-person or virtually over the 4 days. Kinetic Park was full of excitement and laughter April 27 & 28, and the Swift Current Ag & Ex is proud to back providing this program to local students.
The two-day interactive program at Kinetic Park was attended by 770 students from All Saints Catholic, Central, Ecole Centennial, Fairview, OM Irwin, Cabri, Eastend, and Success. The in-person attendees of the event learned about agriculture and safety through hands-on demonstrations by presenters and interactions with farm animals. Topics covered in-person included:
• Seed Survivor by Ag in the Classroom;
• Pasture to Plate by Sask Beef;
• Goat, Sheep, and Poultry Farming by Little Bitty Ranch;
• Pollution and Our Watershed by Moose Jaw River Watershed Stewards; and
• Farm Safety by the E-I-E-I Joe Farm Safety Magic Show.
The virtual program reached 306 students from Eaton School (Eatonia), Gull Lake, Sidney Street (Maple Creek), Westcliffe Composite (Marengo), Wymark, Stewart Valley, Ruskin Hutterite School, and Westberry Elementary (Kindersley). Held in the virtual world, this self-guided program covered the following topics:
• Seed Survivor by Ag in the Classroom;
• An Ode to Oats by Quick Dick McDick;
• Eggbert Visits at Calving Time by Muridale Shorthorns and the Swift Current Ag & Ex; and
• Farm Safety by the E-I-E-I Joe Farm Safety Magic Show.
THANK YOU to our sponsors: Sask. Association of Agriculture Societies and Exhibitions (SAASE), FCC, SGI, Viterra, The Landing Studio, Mercator Financial, Sask Lotteries, Monette Farms, Dr. Rhonda Corrigan – New Family Chiropractic, Whitecap Resources, Sask. Stock Growers Association, Little Bitty Ranch, Agriculture in the Classroom, Muridale Shorthorns, and Quick Dick McDick.
THANK YOU to our presenters and volunteers: Sherri Grant, Carol Masecar, Domonic Andree, Joanna Andree, Mikayla Andree, Jackie Wiebe, Emma Mollenbeck, Paige Pister, Taylor Kell, Stephanie Hoel, Merigan Von Staden, and Brenda Blaschuck.