Swift Current Ag & Ex makes a profit during a challenging pandemic year
Posted on 23 March 2022 by Matthew Liebenberg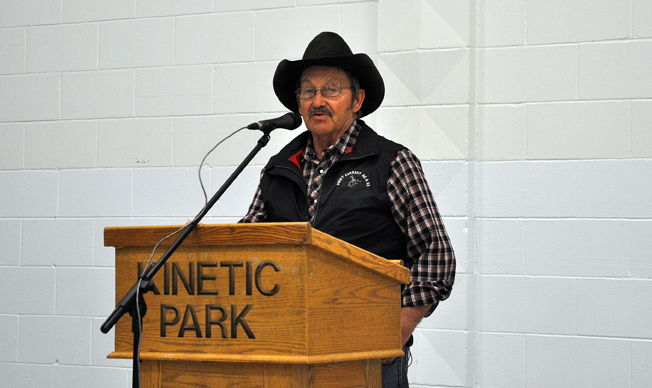 Bryce Burnett presents the Discover the Farm report during the Ag & Ex annual meeting, March 3.
The Swift Current Agricultural and Exhibition Association (Ag & Ex) experienced a challenging year in 2021 due to the pandemic, but still made a profit due to income from several events and significant assistance from various grant and support programs.
The non-profit organization's annual meeting took place at Kinetic Exhibition Park, March 3. Board members presented committee reports and spoke about the different activities hosted during the past year.
"This year our financial picture was quite positive in an overall sense," Finance Chair Stan Aikens said. "However, from our events and so on that we were able to put on, it was probably a negative type. We were very fortunate that we received funding from various governments, primarily the City of Swift Current, which was roundabout moneys that came from the federal and provincial government, and that was very positive."
The Ag & Ex was able to put on more events in 2021 than the previous year, resulting in a profit of $20,262 on activities and events.
"We ran some regular activities associated with Frontier Days, but over four separate weekends due to the restrictions, and this resulted in increased costs plus likely some reduced attendance," he said.
There was a significant loss of $20,509 from hosting the Frontier Days rodeo, with expenses of $91,674 exceeding revenue of $71,165.
"A lot of that was to do with having it set out as an event by itself and we still had a lot of restrictions on," he explained. "We didn't have much for a cabaret and of course you don't have all the other people walking through the gates and so on when you do when you have one big Frontier Days."
The CCA Finals rodeo presented a similar challenge due to the cost to put on the event. The Ag & Ex spent $53,890 and only had a profit of $535.
"While the CCA Finals rodeo was able to be undertaken this past year, there were many adjustments, including relocating the event to the Kinetic Park Magnus Newland arena," he said. "The event was also held outdoors and earlier at the end of September. While it was good to be able to assist again with putting on this event, the changes and the ongoing COVID-19 restrictions negatively affected returns."
Most other activities and events were able to generate a profit. The Doc's Town heritage village opened on a reduced schedule, but realized a profit of $5,178. The popular Country Pleasures Tea Room was able to open again and there were good sales. Funding from the SaskCulture Museum Grant Program supported general operations.
Grants from Young Canada Works and Canada Summer Jobs made it possible to hire two summer students at Doc's Town. School tours did not take place in May and June due to the pandemic, but the summer students developed successful and well-attended day camps for children held in July and August.
The Junior Stockman's livestock show had a profit of $6,718. There were 56 participants aged 6 to 21 years and they exhibited 70 head of cattle. It was held in conjunction with Ranchman's Ridin' & Recitin' that had a profit of $4,026. This event was rebranded and called the New Frontier Fall Fair. The food truck wars with nine vendors was a new feature and this was well received.
Ranchman's and Junior Stockman's took place on the same weekend as the CCA Finals rodeo. The CCA Finals rodeo will be relocating to Saskatoon in 2022 and the intention therefore is to bring back the ranch rodeo or a full-fledged rodeo for the Ranchman's weekend.
Discover the Farm was also a success and had a profit of $6,819. Expenses were kept low due to the virtual format of the educational program in 2021. At the same time, this expanded the reach of the event and a record number of 21 schools took part, with over 850 students and 55 teachers logged on from their schools for the self-guided virtual program.
The Ag & Ex created the Save the Fair 50/50 lottery in 2021 in an effort to raise some additional funds. It raised $5,661 for the organization.
An ongoing challenge for the organization during 2021 was how to cope with regular expenses while revenue possibilities were hampered by the pandemic. However, the organization was still able to conclude the year with an overall operational profit of $30,043. This was a noticeable change from the situation in 2020, when it had an operational loss of $53,641.
Total revenue in 2021 was $466,963 and total expenses were $436,920. Aiken noted that substantial financial assistance from various government and other sources made it possible for the Ag & Ex to avoid another operational loss.
This support included $109,000 from the Restart Canada program and $29,738 from the federal emergency wage subsidy program. A grant of $15,000 was received through the Saskatchewan Tourism sector support program and a grant of $17,500 was provided by the Saskatchewan Association of Agricultural Societies and Exhibitions. There was another grant of $9,251 from the Community Initiatives Fund.
"Assistance from these governments and other organizations totalled $176,749 this year and were very necessary to see that the exhibition association could continue to provide quality events, local support for our youth, and other programs for the community throughout this year," Aikens said.
He also presented the 2022 budget during the annual meeting. There will be an increase in both expenses and income comparable to pre-pandemic levels due to an expectation that activities and events will be similar to a regular year.
However, the Ag & Ex will be cautiously optimistic for 2022 due to uncertainty over how the public will respond to the lifting of pandemic restrictions in the province.
"I'm hopeful that the bulk, 75 per cent of the people at least, will come back and maybe we can draw some other people that normally aren't here just because they want to get out," he said. "So our numbers hopefully will be reasonably close to what we normally get. That's what I'm hoping anyway."
The budgeted expenses of $847,080 and income of $843,605 for 2022 will result in a small loss of $3,475 that the organization will be able to cope with. However, he felt the actual result might be more positive.
"I think based on our past record, that's something that we can absorb if we have to," he said. "We do have the financial resources to absorb a small loss. There are some areas here that we probably aren't going to spend as much as we have. So I believe we'll still come out with a positive at the end of the year."