Environmental Product designation won't be taken lightly by Alberta Pulse Growers
Posted on 2 March 2022 by adminis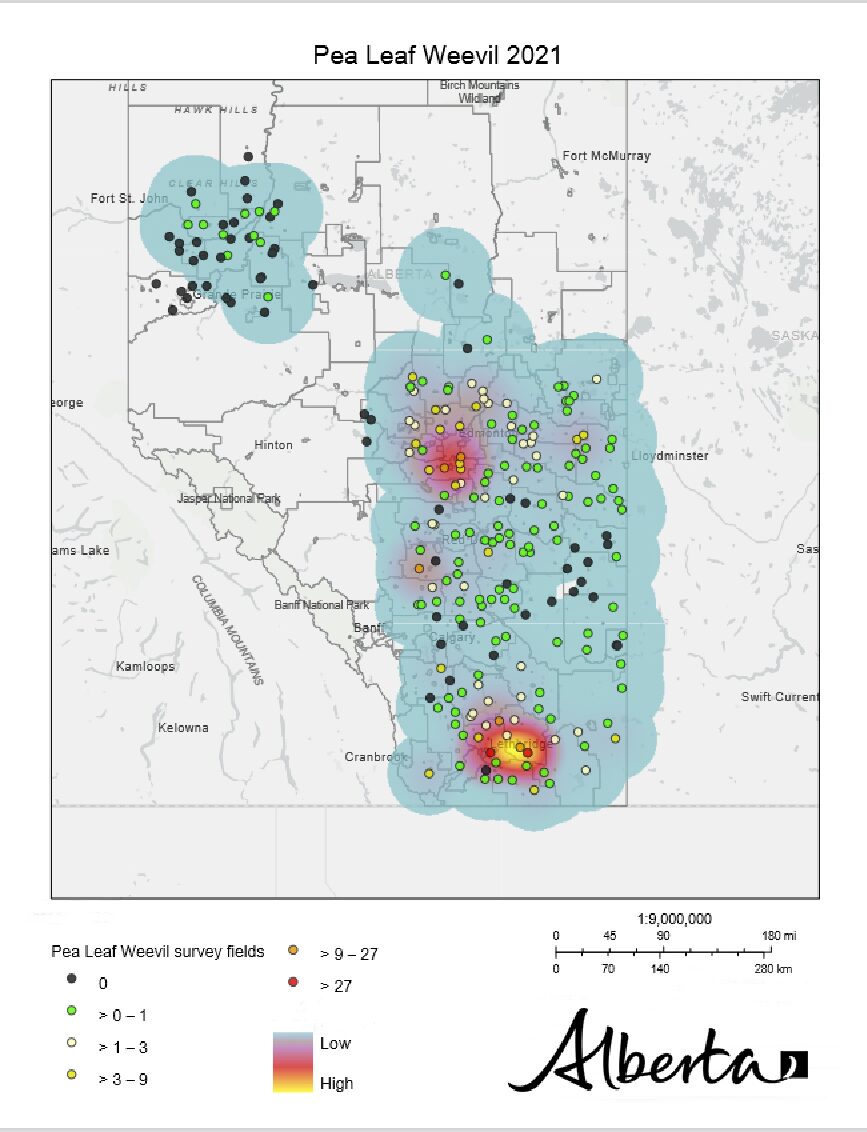 Local Journalism Initiative Reporter
Alberta Pulse Growers are determined to prove that their peas are still worthy of their title as the first North American agri-food to earn the Environmental Product designation (EPD) stamp of approval.
Though their designation is set to expire, said Nevin Rosaasen, Sustainability and Government Relations Lead with Alberta Pulse Growers, the necessary surveying required to update their information has been completed, and further steps are underway.
"We just finished that survey with our life cycle analysis, and we didn't just just do field pea this time, we did fava beans, and lentils as well," said Rosaasen. "So we'll have a really good understanding of the impact those crops have or the energy requirements for growing those crops."
The process includes using specific software to run through different field operations for the product and the equipment used, and having the information verified by a third party, said Rosaasen. At that point, APG will be able to apply for another Designation.
EPDs started in the construction industry in Europe, as a way to better understand the environmental impact of using different materials. However, some food companies such as Barilla began looking at where their products were coming from, and the footprint of those products. Alberta Pulse Growers first began looking into their own EPD in 2016.
"We decided that we were going to endeavour to not only start with the lifecycle analysis, so that's understanding emissions related to the production of feel peas, but also going a step further and looking at the Environmental Product Declaration," said Rosaasen. "Looking at not only the emissions, but also any type of eutrophication—that would be nutrients running into water bodies—as well as the aerosols and the impact on human health. So the environmental product declaration we did, we were successful in 2018."
The information required went from the analysis of the plants themselves, to all parts of the growing process: how passes are made with equipment, the amount and kinds of herbicides and fungicides used, and even fuel use by harvesting equipment.
"The synthetic fertilizer required for yield plants, pulse plants actually fix that atmospheric nitrogen themselves, so inherently pulses have a very low footprint," said Rosaasen. "And so through the life cycle analysis, we learned more about where our production hotspots are, so to speak. So in the case of fieldpiece, it would be related to the small amounts of phosphorus fertilizer that are required for plant health and routing. Believe it or not, harvesting equipment, some of the columbines we use are very large capacity, but they do burn a lot of fuel. So those would be the two largest places where pulses have an impact from emissions. That being said, when you look at a comparison of protein profiles that would be common in a North American diet, pulses offer the biggest punch or protein with the lowest environmental footprint."
This analysis benefits everyone from the producer to the consumer, as more emphasis is placed on understanding where food comes from, it also helps farmers point out where they're spending more money and may help them with their process, said Rosaasen.
"Whether that's in fuel or fertilizer, right, or certain pesticides that they may apply, they can definitely find out where they're spending more money. So we have these areas for continuous improvement to look at. So for farmers, and they're very interested in where those production hotspots are," said Rosaasen. "And certainly, consumers are increasingly more concerned about the impact their food choices are having on the environment. So certainly, in the case of the Alberta yellow field pea, consumers can be assured that they're one of the most sustainable protein sources in the world. And if they're worried about their impact on the environment, yellow field peas are an excellent choice."