ABP GM's tie to southeast Alberta helped forge his career
Posted on 22 September 2021 by Anna Smith, Local Journalism Initiative Reporter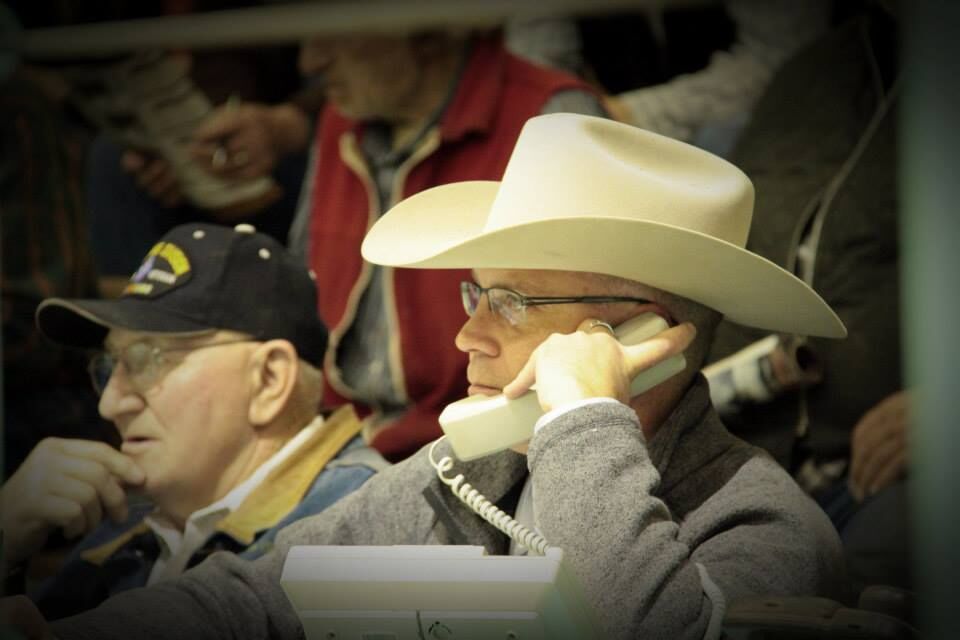 Brad DeBeau
Though currently living in Millarville, Alberta Beef Producers General Manager still keeps his personal business close to home.
Dubeau grew up on a commercial Hereford Ranch just west of Medicine Hat, along the South Saskatchewan River. He is part of the fifth generation to be a part of this farm, which started in 1905. He worked and lived there for several years, before pursuing his degree in Agriculture Business with a minor in Economics at Montana State University.
"The Ag Business course had several economics courses that are required for the degree. And it was with only adding a handful of courses I was able then to, you know, get my minor in economics. Without a lot  because there was emphasis around economics in the ag business degree. There weren't a lot of more courses that were required to get your minor. So I just wanted to pursue that a little bit further. I found it interesting," said Dubeau. "But the ag business was definitely the path that I was most interested in. It's funny, because that really is in the realm of finance, and so forth. And life took me more in a public relations type role, and it's just how things played out."
After university, Dubeau was first employed with TD Bank as an agricultural account manager, something that he did for several years before a unique opportunity arose with the Alberta Hereford Association.
"The Alberta Hereford Association was looking for a new manager. They were going through a lot of transition at the time. So I was successful in receiving that position," said Dubeau. "They had changed the direction of what they wanted to do at Alberta Hereford Association. So it was the kind of position that allowed for me to be on the road, talking to commercial producers across the province, and attending purebred shows. And without realizing it, I was having that opportunity to first practise my public relations skills, I guess you might call it."
After the Alberta Hereford Association, Dubeau returned to the family ranch for a time after the passing of his father, before accepting a position at a bovine collection facility with Independant Breeders.
"I spent a few years with Independent Breeders in a public relations role. I was there when Alta Genetics purchased Independent Breeders and they basically combined the two operations, Alta Genetics bought Independent Breeders and so I was under Alta genetics  also in a public relations type role," said Dubeau. "By that point, we had determined how we were moving forward and I started up a yearling or grasser operation on my part of the ranch. That was in 2008."
Dubeau still runs this grasser operation to this day, and all of his calves are backgrounded on the Dubeau Ranch, which currently belongs to his brother.
"While I was doing that, in the meantime, I went to work for the Canadian Hereford Association, in the role of Director of Communications there, my main objective was on the public relations side of the Hereford Association traveling across the country, but I was also charged with, with the being the editor of the Canadian Hereford Digest. They were looking for someone to kind of take on that role and, and develop the magazine under the banner of the Canadian Hereford Association. So I spent from 2009, through 2016, with the Canadian Hereford Association in that role, all with the magazine and then providing their public relations. Then I came to Alberta Beef Producers as their Marketing and Education Manager. In those years, we updated all of the educational resources that we now have today on our website that we try to or that we do promote out to teachers and parents for use in the classroom. Then on the marketing side, we elevated the Alberta Beef campaign. I did that up until last spring, I was fortunate enough to be selected as the general manager of Alberta Beef Producers."
While public relations is not where Dubeau originally intended to go with his career, he believes that it was a positive change, and a part of life to be taken to places you may not have expected.
"The degree that you choose is something that you're interested in, but life will take you down the path that you're supposed to go," said Dubeau.
"I grew up in Hereford Industries, so I had a natural connection to the breed. When I was made aware that this opportunity was available, I thought, what a really cool way to be involved in the purebred industry, which I had not been on a personal level, just traveling to sales and so forth, growing up," said Dubeau. "But it was just a really unique opportunity to do something within the beef industry, which was connected to the hereford breed, which I grew up with, and I was very comfortable around. And so it it just seemed like something that I wanted to give a try. And I've always been known as a bit of a talker, right, since I was a young person. And so I seem like those talkative skills played well for me in that role as I've continued down that same path."
Dubeau considers himself lucky to have several wonderful mentors over the course of his career, which allowed him to become a better rounded person for the industry he's passionate about, as well as to have had ample opportunity to travel the country and meet other producers.
"The really cool part is when starting off at Alberta Hereford Association, I got to travel the province and meet producers, purebred or commercial from around the province. It was a really interesting way to be able to see how different producers in different areas of the province do things differently," said Dubeau. "Then independent breeders branched me out a little bit where I was able to do some traveling across Western Canada as we were sourcing bulls to come into the collection facility to be collected. You kind of broaden your horizons beyond Alberta, and you got to see how things were happening, mostly in the surrounding provinces or the neighboring provinces. The Canadian Hereford Association took me right across Canada. It was a really wonderful way to be able to meet people in the Maritimes in Quebec in Ontario, Manitoba, Saskatchewan, BC. When you really you you got to see how different parts of the how producers or cattlemen there are dealt with their operations across the country and everybody does things a little differently based on their environment situation circumstances. Just a really wonderful way to see Canada."
"I try to do the best that I can. I try to work hard. And I believe in a certain path, and I'm not afraid to try and implement that path," said Dubeau. "I'm not afraid to embrace something new. Sometimes it's really hard. And sometimes it comes with a lot of criticism. But without giving it a try, then you don't know if you were successful."
Brad DeBeau