Weed management teams work to keep Cypress County free of prohibited weeds
Posted on 28 July 2021 by Anna Smith, Local Journalism Initiative Reporter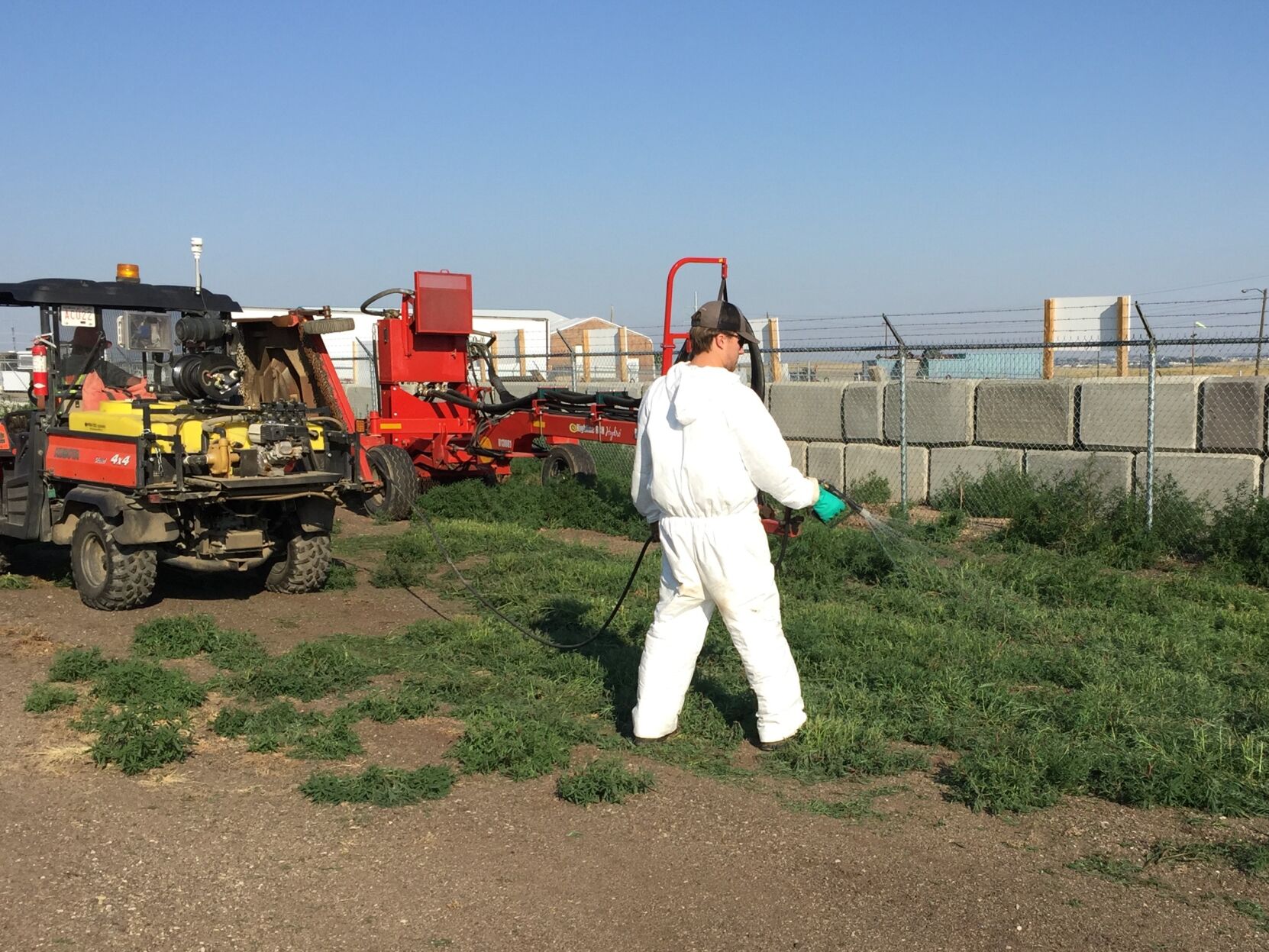 A member of Cypress' County's spray team, applying herbicide to a patch of weeds.
Routine weed management is again underway in Cypress County.
The digging and spraying of regulated and noxious weeds has begun in Suffield, Dunmore and Seven Persons, with inspections in Cypress, Dunmore and Irvine. 
"It's a problem, but it's very routine. Just our story of our lives throughout the summer," said Agricultural Fieldman Lisa Sultz. "It's more of a maintenance thing. We're probably never going to be fully rid of these things. But we have to try, it's an ongoing thing."
Cypress County employs a total of 11 summer staff every year, two of which being dedicated weed inspectors. 
"The dedicated weed inspectors go ahead of everybody else and look at the infestations that we've had in the past and they will map what is there. Once they've been there, then we have a spray report, which has photos and maps and proper documentation, then the spray crews can go in there," said Sultz.
All of these summer staff go to what Sultz referred to as Weed School in the Spring, shortly after they're hired to learn about the various weeds that are local to the County and how to properly deal with each variety. 
"It's a lot of on the job training as well. They also do receive an authorized assistant certificate, which means they can spray and do everything associated with the job," said Sultz.
The spray teams use a variety of herbicides, depending on the species of weed present and where the plants have appeared. 
"Often we try and spray, because it's quick, but sometimes, there's a few weeds that are very hard to spray when they're young because we can't see them," said Sultz. "For example, like the baby's breath that they're digging now around Suffield way is very, very easy to see, now that it's big and fluffy and gone to seed, it's been flowering. Rather than having those seeds go beyond those plants and blowing around in the wind, we take bags and try to capture as many seeds as we can, before they spread. They spent a lot of time digging the baby's breath; they often dig about six inches under the ground to try and get the crown of the root. So that it hopefully won't grow back again. Sometimes if you just pull the top off, then the roots are still there. If you leave the root it will just grow back and still be problematic."
A vital part of this program is for landowners to report any sightings of prohibited weeds on their property and work with the County to avoid the spread of noxious species.
"We rely on the land owners, for example if they think they've got knapweed, we hope that they call us so we can help them out with it," said Sultz."That one is, you know, a prohibited noxious species so we do have a program where we will spray that for the landowner. We rely on them to let us know if they think that there's something suspicious, or something that shouldn't be on their land. Other than that, we just try and keep our ditches clean, or the fence lines clean so that it doesn't spread onto agricultural land in the first place."
A member of Cypress' County's spray team, applying herbicide to a patch of weeds.
Photo courtesy Cypress County