Lethbridge College and Farming Smarter team up to study ways to boost canola yields
Posted on 24 February 2021 by Contributed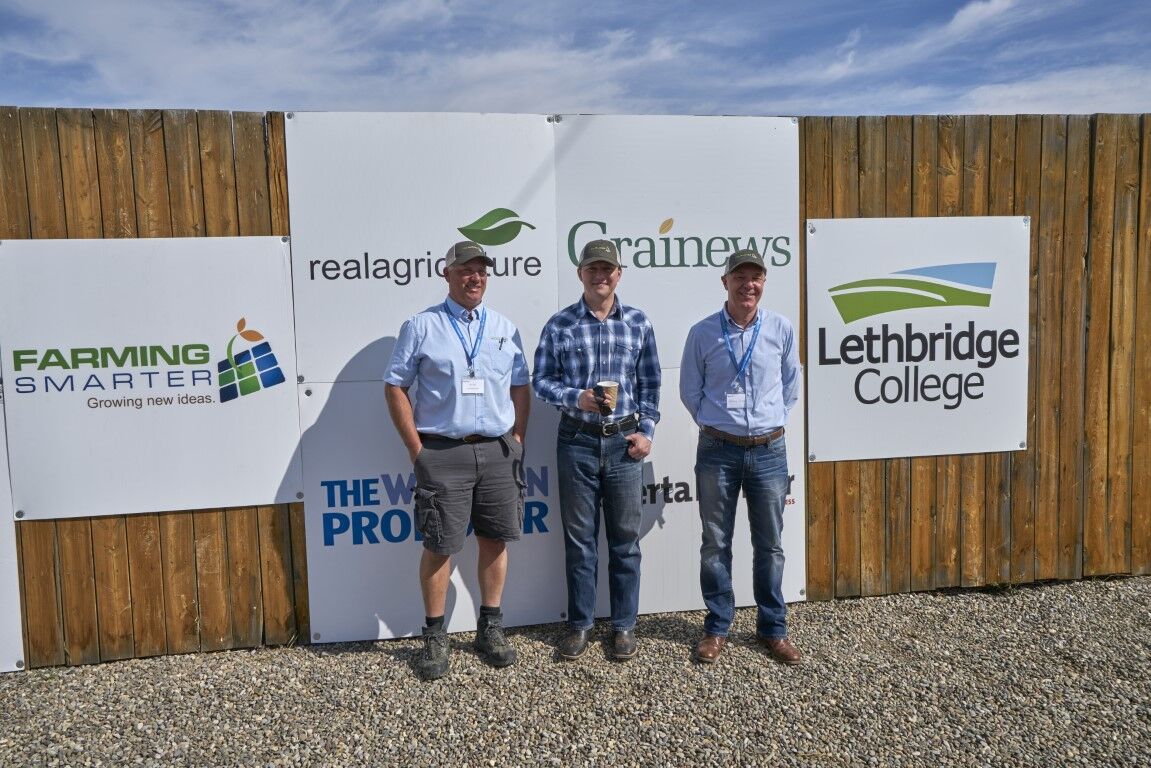 <p>Ken Coles, Farming Smarter Executive Director; Devin Dreeshen, Alberta Minister of Agriculture and Forestry; Dr. Kenny Corscadden, Lethbridge College Associate Vice President Research, Innovation and Entrepreneurship. </p><p>(Photo taken prior to the COVID-19 pandemic)</p>
Southern Alberta canola producers stand to benefit from a joint research project by Lethbridge College and Farming Smarter.
The project will study the effects of strip tillage and precision planting on canola crops. The Natural Sciences and Engineering Research Council (NSERC) partly funds this three-year, Applied Research and Development (ARD) grant with $75,000 per year.
The research aims to increase crop emergence and seed yield in canola under western Canadian climate conditions by using improved crop production practices. Leading the research is Dr. Rezvan Karimi Dehkordi, research associate on the Mueller Applied Research in Irrigation Science team at Lethbridge College, and Farming Smarter research scientist Dr. Gurbir Dhillon.
"With demand for canola expected to rise by 26 million metric tonnes by the year 2025 to meet growing market demand, this research can help producers looking to increase production," says Karimi, who will coordinate and supervise all research activities and data collection. "Since we have short, cold growing seasons, it's important to properly prepare the seed bed so that seeds have a better chance to germinate."
Strip tillage prepares the field by tilling narrow strips for planting while leaving areas between the strips with undisturbed crop residue. Studies show this can reduce soil erosion and soil compaction and improve soil quality. Precision planting is a method of seeding that involves placing seed at a precise spacing and depth with a precision planter.
"Farming Smarter has had great success in adopting precision planters to seed various crops, including pulses, wheat and hemp," explains Dhillon. "In this project, we will evaluate different types of tillage operations and seeding methods to manage previous crop residues and determine if we can improve canola emergence and yield under both dryland and irrigated conditions."
In 2020, Farming Smarter and Lethbridge College formalized and expanded a long-running partnership in a 15-year collaboration agreement that committed the two partners to pursuing opportunities to support the entire agriculture industry in southern Alberta and throughout the province. The Natural Sciences and Engineering Research Council (NSERC) partly funds this three-year project with a $75,000 per year grant.
"We have worked with Farming Smarter on a number of projects, but this is the first time we have secured joint funding from one of the Government of Canada's Tri-Council funding agencies," says Dr. Kenny Corscadden, Associate Vice President Research, Innovation and Entrepreneurship.
Ken Coles, Farming Smarter's Executive Director, adds: "Partnerships are one of our core values and it's through relationships like the one we've developed with Lethbridge College that we can deliver real solutions to our clients. We look forward to working with them on this project to develop best practices for canola farmers in southern Alberta."
Farming Smarter exists to develop and disseminate scientifically sound, unbiased research and information to assist specialists and farmers adopt technologies to increase the profitability and sustainability of all innovative and progressive grain, forage, special crops and livestock producers in southern Alberta.
Agriculture research teams at Lethbridge College operate under the Integrated Agriculture Technology Centre (IATC). The IATC connects small- and medium-sized enterprises in the agriculture industry with the technologies and research expertise at Lethbridge College to enhance their productivity, competitiveness and innovation results.
Lethbridge College's Centre for Applied Research, Innovation and Entrepreneurship is a catalyst for economic growth, sustainability and social development in the region. It brings together researchers, community organizations and students to collaborate on projects that use new or existing knowledge to solve real-world challenges with immediate practical applications. Research Infosource ranked Lethbridge College has one of Canada's fastest-growing research colleges while earning its highest ever placement in 2020's annual ranking of Canada's top 50 research colleges. The college placed 26th on the top 50 list released by Research Infosource and ranked third in research income growth.
Ken Coles, Farming Smarter Executive Director; Devin Dreeshen, Alberta Minister of Agriculture and Forestry; Dr. Kenny Corscadden, Lethbridge College Associate Vice President Research, Innovation and Entrepreneurship. 
(Photo taken prior to the COVID-19 pandemic)
Morton Molyneux